Receptionist / Care Navigator
Overview
Receptionists are often the first person NHS patients talk to. Receptionists work with clerks, health records staff, GPs and nurses. They may also deal with chiropodists, physiotherapists and occupational therapists.
Receptionists need to be friendly and welcoming. They need to have patience and understanding as they will sometimes deal with people who may be angry or upset. They should be able to work accurately and methodically, following instructions and procedures, within a team (with all types of people) but be confident in using their own initiative when required.
Receptionists deal with people both face-to-face and over the phone.
Job Responsibilities
As a receptionist, you will:
book patients in for appointments
enter patients' details onto computer systems
direct patients where to go within the health centre
answer phones, sometimes directing calls to other staff.
answer queries from patients and other staff
Some receptionists may combine the job with other admin duties, such as:
filing
chasing up reports
photocopying
inputting data
ordering stationery
word processing
Entry Requirements
There are no set Entry Requirements to become a receptionist. Employers usually expect good literacy, numeracy and IT skills. They may ask for GCSEs or equivalent qualifications. Employers often ask for relevant work experience. Even where this is not specified, it would be an advantage if you have worked in an admin or customer service role.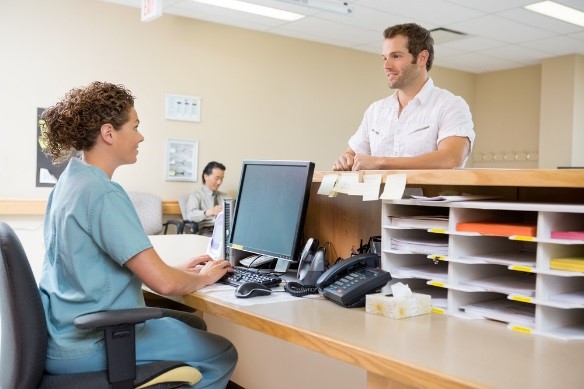 Training and Development
You will get the training you need to do the job. This includes an introduction to the department, how to use the IT and phone equipment and the procedures to follow. You may also have training in customer care.
Join Our Mailing List
Get the latest updates and news direct to your inbox.