Overview
General practice nurses are an integral part of the general practice team. They are highly skilled professionals who have specific knowledge and characteristics which enable them to work autonomously as part of a multidisciplinary team.
The role allows any branch of nurses to provide high quality personalised, passionate care to diverse populations across all age ranges. As primary care evolves and transforms so does the practice nurse roles, undertaking an ever-wider range of roles and responsibilities. Practice nursing is a challenging and rewarding nursing career which offers many developmental opportunities for example:
Clinical specialist/lead in disease areas
Clinical specialist/lead in women's/men's health
Clinical lead for specific clinical areas e.g. Learning disability/Safe-guarding/Infection prevention control
Non-medical prescribing qualification
Advancing clinical practice qualifications
Leadership and mentoring
Research
Job Responsibilities
As a practice nurse you will work within a multi-professional team providing population healthcare. Job responsibilities will vary from practice to practice, some examples are;
Immunisations & vaccinations
Minor and complex wound care
Cervical cytology
Ear care and irrigation
Phlebotomy
Electrocardiograms
Supporting patients with Long term condition management, such as diabetes/respiratory and heart disease/cancer care)
Public Health promotion including smoking cessation/weight management
Women's health
Family planning and contraception
Men's health screening and advice
Travel health advice and vaccinations
Minor illness
Direct supervision of healthcare assistants/student nurses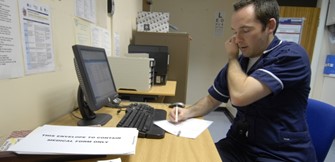 Entry Requirements
To become a practice nurse, you must be a qualified nurse with a BSc (Hons) in adult, child, mental health or learning disability nursing and be registered with the Nursing and Midwifery Council (NMC) or be a General Registered Nurse. You will need to have clearance from the Disclosure and Barring Service (DBS). You can become a practice nurse at any time during your nursing career, from newly qualified undertaking a General practice nurse fellowship programme (add link to Fellowship page), to wanting to expand clinical portfolio career from any healthcare setting.
Skills and personal characteristics:
Highly organised
Flexible and able to prioritise effectively
Highly observant.
Good communication and problem-solving skills
Ability to work autonomously as part of the wider multi professional practice team
Join Our Mailing List
Get the latest updates and news direct to your inbox.