Advanced Clinical Practice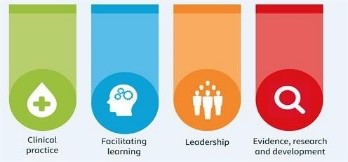 What is Advanced Clinical Practice (ACP)?
Advanced level practice is not a specific role; it includes all practitioners who have progressed to an advanced level of practice through further education and training.
Health Education England (HEE) Multi-professional framework for advanced clinical practice in England (HEE England 2017 ) provides a clear definition of advanced practice:
'Advanced clinical practice is delivered by experienced, registered health and care practitioners. It is a level of practice characterised by a high degree of autonomy and complex decision making.
This is underpinned by a master's level award or equivalent that encompasses the four pillars of: Clinical practice, Leadership & management, Education, and Research. Together with the demonstration of core capabilities and area specific clinical competence.
Advanced clinical practice embodies the ability to manage clinical care in partnership with individuals, families and carers. It includes the analysis and synthesis of complex problems across a range of settings, enabling innovative solutions to enhance people's experience and improve outcomes.
All health and care professionals in the East of England working at the level of advanced practice should have developed their skills and knowledge to enable them to meet the minimum capabilities and competencies across all 4 pillars of advanced practice as outlined in the Multi-professional framework for advanced clinical practice in England
What can an ACP do in Primary Care?
Manage undifferentiated, undiagnosed conditions with agreed scope of practice
Manage medical complexity within an agreed scope of practice
Prescribe any medicine for any condition within their competence/scope of practice (including some controlled medicines) provided they have successfully completed an Independent Prescribing qualification
Undertake leadership roles within the practice
Lead education and training in their area of expertise
Enhance the learning environment broadening the skill set of team members
Increase supervisor capacity: ACPs can take on a variety of supervisor's roles.
Lead quality improvement initiatives and research within practice or across network
Enable, facilitate and support change across care pathways and traditional boundaries
Training and Development Pathways to Advanced Practice
MSc ACPs programmes
HEE East of England (EoE) currently funds Advanced Clinical Practice training places via two models: full MSc courses and top-ups to a full MSc.
HEE EoE encourage employing organisations to access Advanced Clinical Practice training for learners via an apprenticeship pathway where possible. Currently this will enable the organisation to receive the HEE training grant as well as accessing the apprenticeship levy to pay tuition fees.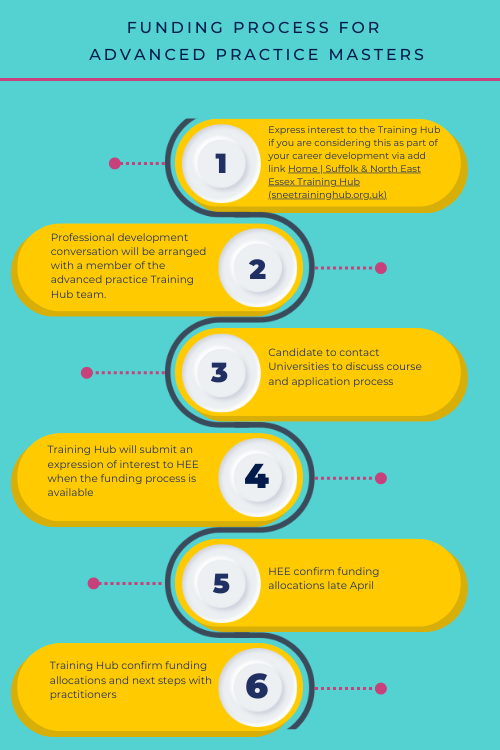 HEE ePortfolio (supported) Route
This opportunity is suitable for experienced practitioners who already have a significant body of evidence that can be mapped to the Multi Professional Framework with minimal or no gaps in that mapping. It is not a training route.
The ePortfolio (supported) Route enables experienced practitioners to evidence that they meet the advance practitioner requirements described in the Multi-professional framework for advanced clinical practice in England by mapping their knowledge and skills to the MPF using the Centre's ePortfolio.
Successful completion of the e portfolio route will be linked to a digital badge. Digital badges are validated/verified indicators of accomplishments, skill or quality earned through learning.
For more information and to register your interest please visit ePortfolio (supported) portal.
Supervision of advanced practice
HEE Centre for Advancing Practice Resources for Supervision (minimum standards) provides new guidance for supervisors, managers, employers, and trainee advanced practitioners and outlines the expected standards for supervision.
The minimum standards for Advanced Clinical Practice supervision are:
To have a named co-ordinating educational supervisor (who ideally will have undertaken Tier 3 supervision training)
To have access to associate workplace supervisors
To have a minimum of 1 hour(s) supervision per week, of which 1 in 4 should be with your named co-ordinating educational supervisor
Please see below resources for more information:
Advanced Practice Workplace Supervision
Employer's Advanced Practice Supervision Action Plan
Supervision Readiness Checklist
HEE have published further guidance and supporting videos on supervision: click here
Further information
If you would like to discuss advanced practice or a potential application, please contact the Suffolk and North East Essex Training Hub where your details will be passed to our Advanced Clinical Practice leads: [email protected]
Join Our Mailing List
Get the latest updates and news direct to your inbox.