First Contact Practitioner – Musculoskeletal (MSK) Physiotherapist
Overview
MSK First Contact Practitioners are regulated, advanced and autonomous healthcare professionals trained to provide expert MSK assessment, diagnosis and first-line treatment, self-care advice and if required and appropriate, discharge a person without medical or onward referral.
The development of First Contact Practitioner MSK (FCP) services across the UK allows people with musculoskeletal (MSK) conditions to access MSK physiotherapy expertise at the start of the pathway, ensuring timely access to diagnosis, early management and onward referral if necessary. This benefits patients, primary care and the wider MSK system.
Link for more information on MSK First Contact Practitioner: NHS England: MSK First Contact Practitioner
Job Responsibilities
Advanced MSK assessment and diagnosis
Provide information on self-care and enable and support behaviour change
Discuss fitness for work
Undertake social prescribing
Discuss physical activity and health (e.g. smoking cessation and weight management)
Refer to a course of treatment (e.g. physiotherapy or podiatry)
Refer to orthopaedic / rheumatology / pain services
Request investigations
Medicines optimisation
Administer joint / soft tissue injections (if qualified).
Role of MSK FCP
Entry Requirements/FCP Recognition
BSc in Physiotherapy
At least 3 years post graduate experience in MSK and 5 years post graduate study
Usually working at an Agenda for Change Band 7
Advanced MSK practitioners (AP's) may work at a Band 8a (the role is evaluated and will be determined by the complexity of the clinical workload and the scope of the role)
Training and Development
Working alongside the 'First Contact Practitioners AND Advanced Practitioners in Primary care (Musculoskeletal); Roadmap to practice (link below), FCPs must have completed both stage 1 and Stage 2 of the Roadmap to gain recognised First Contact Practitioner MSK status.
Stage 1: Preferably, must be completed with a portfolio of evidence and verified before employment in Primary Care. The KSA must be completed prior to employment as a FCP or AP in Primary Care to assure patient safety. For MSK clinicians already working in primary care this can be completed retrospectively.
Stage 2: Is completed with a portfolio of evidence and verified in Primary Care. This is the recognition process of the application of the KSA in Stage 1 to clinical practice in Primary Care. Best practice is that this should be completed within 6 – 12 months for a full-time member of staff but this can be longer provided a completion date is agreed with the employer.
'Trainee' FCP's are advised to keep a folder of evidence ready to submit in the final stages of their pathway.
For Band 8a roles (Advanced Practitioner MSK Physiotherapist) FCP Primary Care training must be completed, and a clinician must be working at an advanced level of practice across all four pillars of advanced practice i.e. at Masters level.
Roadmap supervision and verification
Roadmap Supervision and Verification is a process of developing a portfolio of evidence both academically and application of that knowledge into practice. This is marked and signed off by a recognised Roadmap Supervisor.
Roadmap Supervisors (RMSV)
The role of a National Trainer and Roadmap Supervisor comes with the responsibility of undertaking workplace-based assessments (within your own scope of practice) and verifying evidence of knowledge, skills, and capability in day-to-day practice. For those interested in becoming Roadmap Supervisor, a RMSV course is available. For more information on this role, please see this link: Roadmap supervision courses | Health Education England (hee.nhs.uk). Various course spaces are released throughout the year.
Important document links:
First contact Practitioners and Advanced Practitioners in Primary care: (Musculoskeletal) A Roadmap to Practice
The Musculoskeletal Core Capabilities Framework (2018)
Musculoskeletal First Contact Practitioners
MSK First Contact Practitioners Videos
News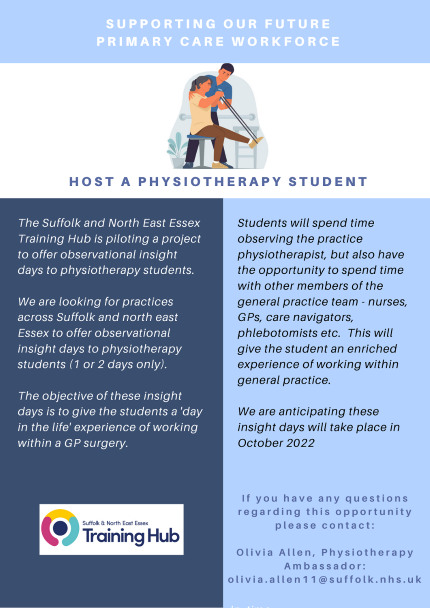 The SNEE training hub launched a Physiotherapist support network in 2022. This support network aims to provide Physiotherapists working in GP surgeries across the North east Essex region, with opportunities to attend physiotherapist led, free networking and CPD opportunities.
A First Contact Practitioner Conference aimed at employers of FCP's took place in September. Supported by HEE, our Physiotherapy and Paramedic Ambassador helped to deliver an informative conference directed towards employer of FCP's in Primary care. The conference was well received and another conference aimed at the practitioners themselves, is scheduled for early 2023. Please see the link below for the presentations/information that was delivered on the day.
Join Our Mailing List
Get the latest updates and news direct to your inbox.