Overview
Nursing associates work with healthcare support workers and registered nurses to deliver care for patients and the public. During training, nursing associates are employed in a specific healthcare setting such as an acute, community, primary care, mental health hospital, care home or hospice.
To meet the requirements of the two-year training programme, you'll work in a range of settings to gain as much experience as possible of different health and care settings and situations. This will mean travelling to placements and working a mix of shifts.
Once you've finished your training, you'll have the knowledge, understanding, skills, attitudes and behaviours to work as a nursing associate, registered with the Nursing and Midwifery Council (NMC).
Within our primary care landscape the apprentice nursing associate role features under the ARRS roles and full funding is available to cover tuition costs and salary reimbursement.
For further information on the benefits of employing nursing associates please see; Why employ a nursing associate.pdf (hee.nhs.uk)
Nursing Associate Job Responsibilities
Nursing Associate duties are likely to include:
undertaking clinical tasks including cannulation, venepuncture and ECGs
performing and recording clinical observations such as blood pressure, temperature, respirations and pulse
discussing and sharing information with registered nurses on a patients' condition, behaviour, activity and responses
ensuring the privacy, dignity and safety of individuals is maintained at all times
recognising issues relating to safeguarding vulnerable children and adults
A quick guide to Nursing Associates in General Practice – StudentNursingAssoc_2 (panopto.eu)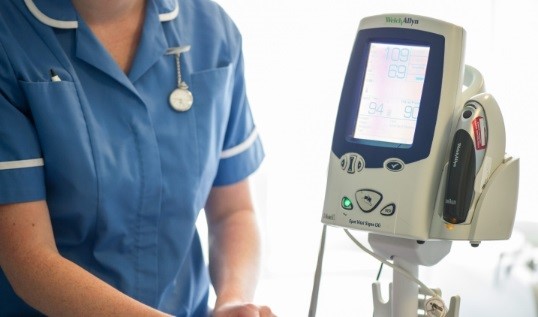 ---
Entry Requirements
To begin your training as a nursing associate, you'll need GCSEs grade 9 to 4 (A to C) in Maths and English, or functional skills level 2 in Maths and English. You will need to be able to provide certification of these prior to embarking on a programme of study.
To become a nursing associate, you will undertake academic learning, minimum of one day a week and work-based learning the rest of the week.
You will need to demonstrate your ability to study to level 5 foundation degree level and commit to completing the Nursing Associate Apprenticeship programme.
It will be very important to plan and manage the competing demands of your job role, study and placement activities. You will need to develop an understanding of all elements of the nursing process and of caring for individuals with particular conditions such as dementia, mental ill health and learning disabilities/difficulties.
For further information Find a course | National Careers Service
Nursing and Allied Health Clinical Apprenticeship Pathways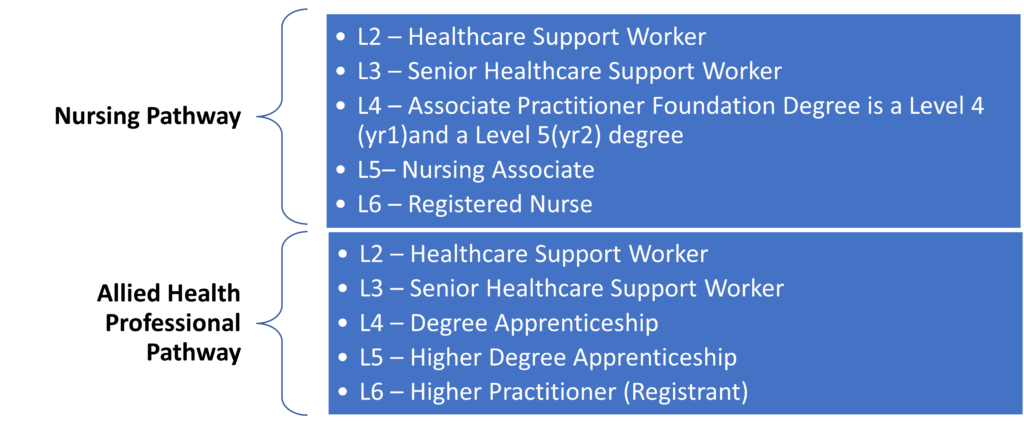 Join Our Mailing List
Get the latest updates and news direct to your inbox.